How to Open a Savings Account with Keesler Federal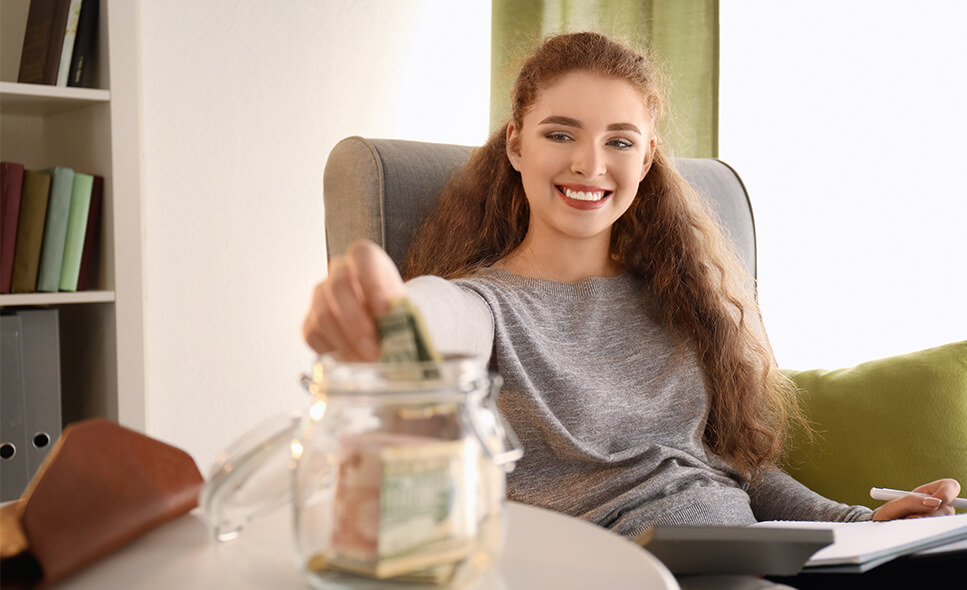 Share:
You're ready to open a savings account but you're not quite sure where to start. You've come to the right place.
At Keesler Federal Credit Union, we understand a one-size-fits-all approach doesn't work for everything—even something as seemingly simple as a savings account. That's not to say we don't make it easy. If anything, we're making it even easier for you to reach your savings goals.
Read on to learn about Keesler Federal's six ways to save—as well as how to open a savings account with us.
But First, the Why
Long gone are the days when everyone would stash rainy-day funds into coffee cans and bury them around their property. (Or maybe they're not—retro is usually trending in some form or another, after all.) There's a good reason for this.
Most credit unions and banks will pay you to let them hold onto your money. This means that, rather than just sitting in an old can collecting dust, your money could be making you even more money through earned interest over time. Interest rates will vary depending on the institution or type of account, but they'll always give you a greater return than your buried cash reserves' 0% annual percentage yield (APY)1.
Dividends from Keesler Federal's varied savings account options range from 0.15–1.00%2. We'll get into the details below.
Six Ways for You to Save
Maybe you have one big savings goal or several smaller goals you're trying to reach. Perhaps you just want one place to hoard all your savings just in case. Whatever it is you're hoping to accomplish, our versatile savings account options have you covered. Put your savings on autopilot with automatic transfers and breathe easy knowing your money is federally insured by the National Credit Union Administration3.
Primary Share Savings
All members of Keesler Federal Credit Union are encouraged to take advantage of the basic savings account that comes with their membership4. This savings account is ideal for emergency funds to make sure you're prepared when the occasional unexpected expense comes your way.
Get started with a minimum of $5 so you can earn 0.15% on balances below $5,000 and 0.20% on balances of $5,000 or more. Dividends are paid quarterly.
Alternate Share Savings
One pool of savings doesn't always get the job done. If you're saving for several goals at once—like, say, a new car, a family vacation, and college tuition for your kids—Alternate Share Savings can help you keep things separate. Personalize specific savings goals so you can stay on track with everything you're trying to accomplish. No minimum balance is required. Earn 0.15% on balances below $5,000 and 0.20% on balances of $5,000 or more. Dividends are paid quarterly.
Christmas Share Savings
Tired of the holiday shopping season taking you by surprise? Between the ugly sweater parties, company holiday dinners, and gifts for friends and family, the season of giving can end up feeling more like the season of spending if you're not prepared. This savings account is designed to help you save for the holidays all year so you don't bat an eye when it comes time to splurge. All you need is $1 to start earning 0.30% on your balance. Dividends are paid quarterly.
High Interest Money Market Account (HIMMA)
Keesler Federal's HIMMA provides you with the opportunity to earn higher dividends while still being able to easily access your funds. Set it, forget it, and watch your savings grow. The bigger the balance, the bigger the dividends. Get started with a minimum deposit of $2,500 and earn anywhere from 0.30–0.40% depending on your account balance. Dividends are paid monthly.
Kasasa Saver
With Kasasa Saver®, you basically get paid to bank with Keesler Federal Credit Union. Earning dividends on your rewards is as easy as using your debit card. To earn 1.00% APY on balances up to $150,000, make at least one direct deposit to your Kasasa Cash® or Kasasa Cash Back® account and at least 12 debit card purchases. Even if monthly qualifications aren't met, you'll still earn 0.05% APY. No minimum deposit required, but you'll need to have a Kasasa® checking account to open a Kasasa Saver®.
Smart Change
Last but not least, Smart Change! Smart Change automatically rounds up all your debit card purchases to the next dollar and deposits the difference into a special savings account that earns 2% APY in dividends. All you need to get started is a Keesler Federal checking account and a debit card. Hands down, this is one of the easiest ways to save and grow your money!
Start Saving Today
Ready to open a savings account with Keesler Federal? Get started now.
1 APYs accurate as of 5/24/2021. 
2 Rates are subject to change without notice.
3 Federally insured by NCUA.
4 Membership and Credit Eligibility Required.