Skip a Pay Procedures
Please take the time to read the following instructions thoroughly to ensure a successful transaction.
To Request your Skip a Payment
Log in to your Keesler Federal account from online or mobile banking
Click on the Transfers & Pay menu item, select Skip a Pay and it will display your qualifying loan(s)
Select the loan you want to skip the next payment and click the SKIP button. This must be done at least 7 days prior to your due date.
Choose which account you would like the $29 payment deferral fee
deducted from.
If you prefer to skip a later month's payment, please wait to make
your request until that payment is due.
Setting up Skip a Payment when you have an existing recurring automatic payment transfer:
If you wish to take advantage of the Skip a Payment option, but already have an automatic transfer set up to pay your loan each month, you must take additional steps to suspend/cancel the transfer. If action is not taken, your automatic transfer will take place and payment will not be skipped even if you have selected the skip a pay option.
For instructions, please select the type of automatic payment you currently have (OR: that applies to you):
Option 1: Automatic Transfers
Scenario: I have set up an automatic transfer within the Keesler Federal online and mobile banking system to pay my loan from my checking account, savings account or a non-Keesler Federal financial institution.
Log in to your Keesler Federal account from online or mobile banking
Select the Transfer & Pay menu item
Select the SCHEDULED tab to display My Scheduled Transfers

Locate the scheduled transfer/payment you wish to skip
Click on the EDIT icon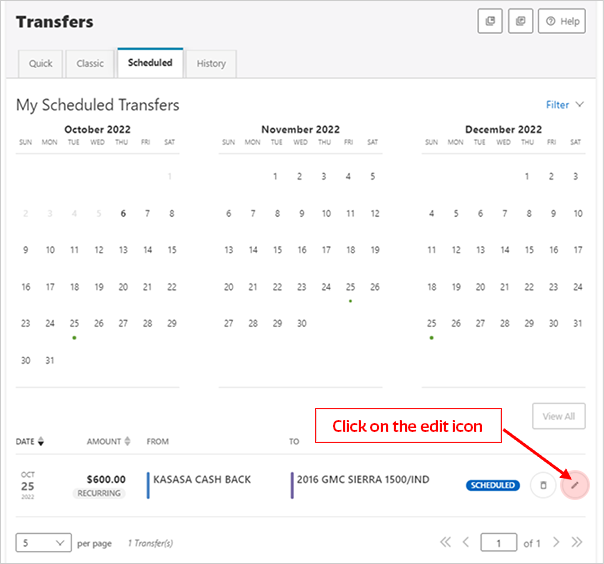 Select the date you wish auto transfer to begin after a skip a payment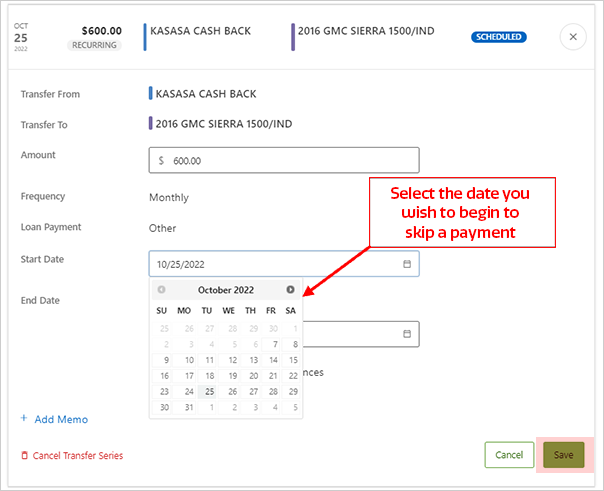 Option 2: Payment Portal
Scenario: I have set up a recurring loan payment from another financial institution through the Keesler Federal Payment Portal.
Log in to the Payment Portal
Click on Manage AutoPay

Edit the Start Date field to the date of next desired payment and click Update. Alternatively, you can click on Cancel Scheduled Payment to cancel the scheduled payment altogether.

You will get an email to the Payment Portal registered email confirming the changes.
Option 3: ACH Transfer
Scenario: I have set up an external recurring automatic ACH transfer to pay my Keesler Federal loan from a non-Keesler Federal financial institution or other payer (payroll or Social Security direct deposit, etc.).
If your loan payment is made via Payroll Deduction, Direct Deposit, or Electronic Funds Transfer (EFT)/Automated Clearing House Records (ACH) and applied directly to your loan, you will need to contact your payroll department or financial institution to "suspend" the deduction from your payroll or account for the month you wish to skip a payment.
Transfers from a Mobile Device
Instructions: (1) Navigate to the Transfers menu item

(2) Under Scheduled Transfers,
select the arrow



(3) Select the loan to update


(4) Select Edit Series



(5) View the loan to skip here




(6) Click the calendar to change the date


(7) Newly selected date will appear
in the date field

(8) Select SAVE

(9) Select DONE
Cancelling a Skip a Pay Scheduled Transfer
Select SCHEDULED from the Transfer page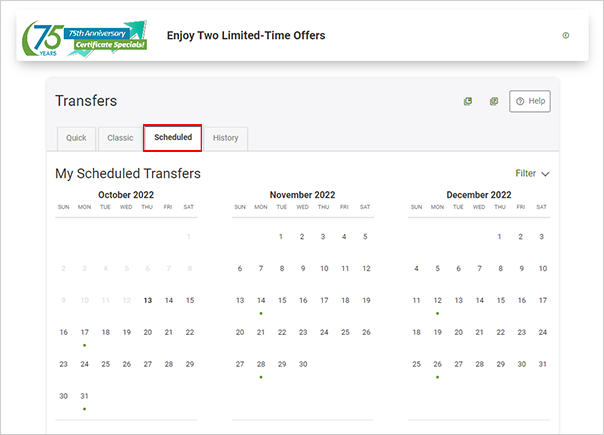 Find the scheduled transfer that the Skip Payment was performed for – select the "Cancel Transfer Series" option and click "Cancel Next Transfer On…".