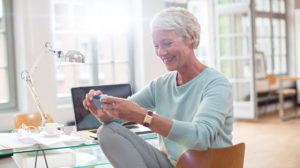 MOBILE BANKING
Bank on the Go
See what Keesler Mobile can do for you
Check Your Balance
Need to do a gut-check before making that impulse buy? Get up-to-the-minute balance information when and where you need it.
Pay Your Bills
Never worry about another late fee! With Mobile Bill Pay, you can easily send one-time payments without the hassle of checks and stamps.
Pay Friends and Family
Need to chip in for dinner? Pay the babysitter? Don't worry about checks or cash. With KwikPay, you can send money directly between almost any U.S. bank accounts, typically within one business day, from your mobile device.
Budget and Save
MyFi Pro gives you complete access to all your accounts in one view. Set up custom budget and savings goals and access graphs and illustrations that provide you a real-time snapshot of your financial health and well-being.
Deposit Checks
DepositNOW gives you the freedom and convenience to deposit checks without visiting a branch. After taking a picture of the check using the camera on your mobile device, you'll typically see your deposit credited within one business day. It's that easy!
Any checks deposited through Keesler Online and Keesler Mobile must be endorsed with your signature, the last four digits of your account number and "For Mobile Deposit Only".

Other mobile-friendly services
Apply for a Loan
No more wading through paperwork with our mobile-friendly loan application. Visit our loan application page from your mobile device, and get one step closer to your borrowing goal.
Find a Branch or ATM
We make it easy to manage your finances remotely, but we still love seeing you in person! If you need to find your nearest branch or ATM while you're out and about, our mobile-friendly location finder is here to help.
Manage your finances by phone or text
The SelecText feature will allow you to request your account balance, review transaction history, transfer funds, or lock/unlock your account right from your phone by texting the request to 90703.
To register for this service, log into your Keesler Online account. Under the Services tab, choose SelecText. Follow the prompts to enroll your SMS ready device in the service. Once your device is activated, you can send command codes to SelecText (90703) for the following services:
KFCU COM – Get a list of Command Codes
BAL – Check your balance
TRAN – Transfer funds
HIST – Transaction history
UNLOCK – Unlock your Keesler Online account if frozen due to invalid password entries
LOCK – Immediately lock your Keesler Online account from being accessed online or via Mobile app
STOP – Opt out of SelecText Service
HELP – General SelecText usage help
Download a wallet-size card listing of these SelecText Commands.
With TONI you get free 24-hour access to your accounts from any touch-tone phone.
To Activate TONI: Call Member Contact at 1-888-KEESLER (533-7537) or visit a Keesler Federal branch near you.
TONI Phone Number (Toll Free): 1-800-272-8664
Features:
Choice of Beginner or Expert Mode
Balance information
Transfers
Withdrawals
Check Clearance information
Optional feature to transfer from one account number to another (call Member Contact to activate)
Requirements:
A Touch-Tone Phone
Member Number
Personal Identification Number (PIN)
Helpful Information When Using TONI:
Dollar amounts are entered without decimals
Dates are entered as six digit numbers (MMDDYY)
Have the share and loan ID numbers listed on your statement available
How to use TONI
Dial 228-432-8664 MS Gulf Coast or 800-272-8664 Outside Gulf Coast
Enter your account number and 4 digit PIN followed by the #.
Enter a service code listed below.
Enter ID number if TONI requests it.
Use 99# to end each call
Reference or print a full list of TONI service codes here.
Enroll in online banking
Take full control of your finances with our online banking platform. Whether at your desk or on the go, you can stay in charge.
Learn more about online banking
Get $100 for using our mobile app
Sometimes, a tote bag isn't the surprise gift you really need. With Keesler Federal's innovative Member Giveback program, you could win $100 just for using our mobile app. Every month, 10 members who use our mobile app receive $100. Why do we do it? Because we think you deserve more.
Learn more about our Member Giveback program
Depending on the type of check you deposit, funds may not be available until the second business day after the day of your deposit. However, the first $1,000 of your deposit will be available on the first business day after the day of your deposit.
In addition, funds you deposit via DepositNow may be delayed for a longer period under the following circumstances:
We believe a check you deposited will not be paid.
You deposit checks totaling more than $10,000 on any one day.
You redeposit a check that has been returned unpaid.
You have overdrawn your account repeatedly in the last six months.
There is an emergency, such as failure of communications or computer equipment.
We will notify you if we delay your ability to withdraw funds for any of these reasons, and we will tell you when the funds will be available. They will generally be available no later than the fifth business day after the day of your deposit.
You do not need a PayPal account to send money using KwikPay. The recipient will be asked to create a PayPal account if they don't already have one.
Sending Money

To send money, log in to your online banking account and look for Popmoney.
Send money to anyone using their email address or account information.
You will be notified when the transaction is completed.

Receiving Money

When someone sends money to you, you will receive an email or text message.
If your financial institution offers Popmoney, you can log in to your account and direct the funds there. If your financial institution does not offer Popmoney, you can provide your account information at Popmoney.com, and your money will be sent to that account.
If you do not provide your account information, the payment will be automatically returned to the sender's account.
Money sent directly to an account will be automatically deposited. No action is required by the recipient.
See all online & mobile banking FAQs