We rolled out exciting improvements to our online and mobile platforms that are designed to transform the way you bank. Keesler Federal Everywhere empowers you to do more, wherever, whenever and however you want, so you can get on with what's truly important – enjoying life. That's a good thing.
Important Steps You May Need to Take Now
Review your personal information
Is the profile information correct on your online banking account? Take a look at your mobile number, email, address and update. Learn more.
Review your eNotices and eAlerts
Navigate to Services in the main menu and select eAlerts. Review these as you'll need to reset them and can activate many new ones.
Having Password Problems?
With the launch of Keesler Federal Everywhere, you are just a few clicks away from all the great features that come with our new online banking platform! If you experience any problems logging in with your current user ID and password, you may need to reset your password. Click the button below for instructions on how to reset your password.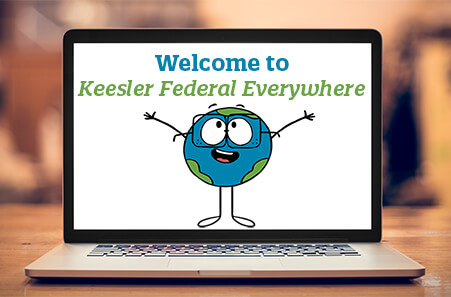 Get the New App!
Android users will need to delete our old app and download the new version of our mobile banking app. This app will be available in the Google Playstore.
Apple App Store users will automatically update if they have their preferences set for auto-update or they will need to manually update if they have selected to not accept automatic updates.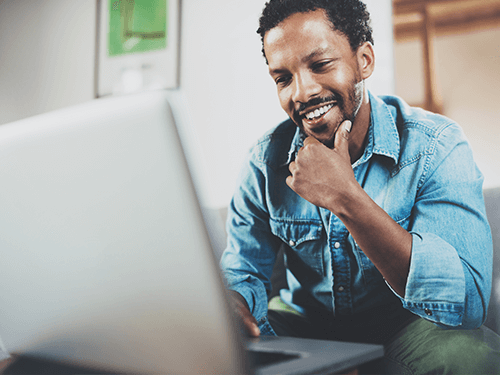 A New and Improved Online Experience
Our new online banking is built around you. It comes packed with many convenient new features and all of the ones you have grown to depend on.
Multiple account views
View all your Keesler Federal accounts in one glance.
Link to external accounts
Link to your accounts from other financial institutions.
Monitor your credit score
SavvyMoney shows you your credit score and ways to improve it.
Financial wellness tool
Exactly what you need to help you manage your finances. Coming soon!
Card management tools
Lock/unlock debit and credit cards, send travel alerts and much more.
New alerts and notifications
Stay in constant touch with your accounts with custom alerts.
Customizable dashboard
Set it up the way you want and keep your favorite features handy.
Remote check deposit
Deposit checks whenever you need to, from the comfort of your own home.
Online Banking FAQs
We have always been dedicated to providing technology that helps members better manage their personal finances. To continue this commitment, it's important that we upgrade to an enhanced system that can deliver a more robust online banking experience to better fit your needs.
The new Keesler Federal Everywhere makes it easier for you to access services and take care of your needs, no matter where or when you need them. Instead of visiting a branch or calling the Member Contact Center, you can now make your own changes, such as updating contact info, reporting a lost or stolen card, setting travel notifications, stopping payments on checks and more, directly through online or mobile banking.
The services and features you're familiar with like Bill Pay, transferring funds, account notifications, and remote check deposit are still available. However, these features are more modern, easier to use, more intuitive, and offer more value to you.
The overall look and feel of online banking is more modern. The desktop and mobile versions of online banking are more similar and you can do nearly everything from your phone that you can do from a desktop computer—because we know you're always on the go. In addition, the technology will be updated much more regularly to stay current with the latest trends.
Based on your feedback, we have added new features. You can self-manage your credit and debit cards, easily create budgets, view your credit card rewards, check your credit score daily for free with SavvyMoney and even view all your Keesler Federal accounts simultaneously with a single login.
In addition, the accounts you are able to view may be different. The new online banking is built around you. This means that whoever logs in will see ALL accounts and loans associated with the Primary Account Holders SSN in the login.
For Example: If Jane (Wife) is Primary on Account 1234, and she is also Primary on Account 2345, she will only login once to account 1234 and she will see all of her Savings and Loans for both Accounts 1234 and 2345. Now if she has John (Husband) as a Joint on her account and John logs into 1234, he will see also see both account 1234, he will also see both account and 1234 2345.
If you login like you're accustomed to doing, you may see more accounts or loans than have been visible to you before. No more logging into several accounts to see everything!
We recommend that you take the time to make sure you know which accounts are visible to you, and which accounts of yours may be visible to others. If you have any questions or concerns, please stop by your local branch or call our Member Contact Center at 1.888.533.7537.
The first time you login you will be required to change your password. You will be given password requirements at login. Your password will need to fit the following criteria:
• 8 alphanumeric characters
• At least one uppercase letter
• At least one lowercase letter
• At least one number
• At least one special character
Update your mobile phone number and email address on all your Keesler Federal accounts to help make your initial login to the new online banking seamless. Please note that updating your profile information can only be done when logged into the desktop or mobile browser version and not on the mobile app.
Take a look at your accounts and who has access to them. Make any access changes now so your online banking experience is what you expect.
Know what transfers, bill payments, and eAlerts you currently have set up so you can ensure they all transfer correctly or re-setup the ones that need to be reconnected.
That depends on your device:
• Android users need to delete our old app and download the new version of our mobile banking app. This app is available in the Google Playstore.
• Apple App Store users will automatically update, or they need to manually update if they have selected to not accept automatic updates.
The easiest way to tell is to check your statement in online banking under Statements or on the printed copy of your statement. The name listed first is the primary account owner. Joint account owners are listed under each share account as you view down the statement.
Many of you use Internet Explorer to browse the web, but did you know that Microsoft is phasing it out to be replaced by Microsoft Edge?
With this in mind, we highly encourage you to download Microsoft Edge, Google Chrome or Mozilla Firefox to use as your primary internet browser to give you the best online banking experience possible. For Mac users, we recommend Chrome, Safari or Firefox as your primary browser for online banking.
Please also make sure you have disabled any pop-up blockers as those will limit your ability to use some online banking functions.
After you have logged in for the first time, and updated your password, you can navigate to "Settings" located under your name in the top right corner, select "Security" and feel free to make your changes. You can update your username and/or password as well as manage multi-factor authentication options.
You can pay almost any company or individual in the U.S. You can pay a company that sends you a bill, like the phone company, or a person or company you owe money to but don't necessarily receive a bill from, like your lawn mowing service. Although all payments are set up within Bill Pay, the payment can be made electronically or via a paper check if your biller isn't set up for online payments.
You can also:
• Set up automatic payments for recurring bills — like rent or cable TV.
• Make one-time payments for bills that differ each month — like the phone or utility bill.
• Pay your Keesler Federal credit card and loan accounts online quickly and easily.
Because we want to help you make good financial decisions and keep on track with your goals, our online banking provides personalized FICO scores that are updated daily with SavvyMoney.
Mac and Windows Conversion Guides
You will need to modify your Quicken, Quickbooks or Mint settings to ensure the smooth transition of your data.
To complete these instructions, you need your login credentials for online banking.
You should perform the following instructions exactly as described and in the order presented. If you do not, your online banking connectivity may stop functioning properly. This conversion should take 15–30 minutes.
Please choose the correct conversion instruction document from the following list. For assistance or more information, please contact us.
Follow these seven steps to reset your online banking password. For more detailed instructions, see our Password Reset PDF.
Click on the login button and click on "Forgot Password?" located under the login box.
Agree to the password safety guidelines and click continue.
Confirm your identity. You will need your username, social security number and zip code.
Select the method by which you would like to receive your temporary password.
Enter your username.
Enter the temporary password you just received here. This password is good for 24 hours.
Create your new password.
See all online & mobile banking FAQs