How to Buy a Car in 5 Easy Steps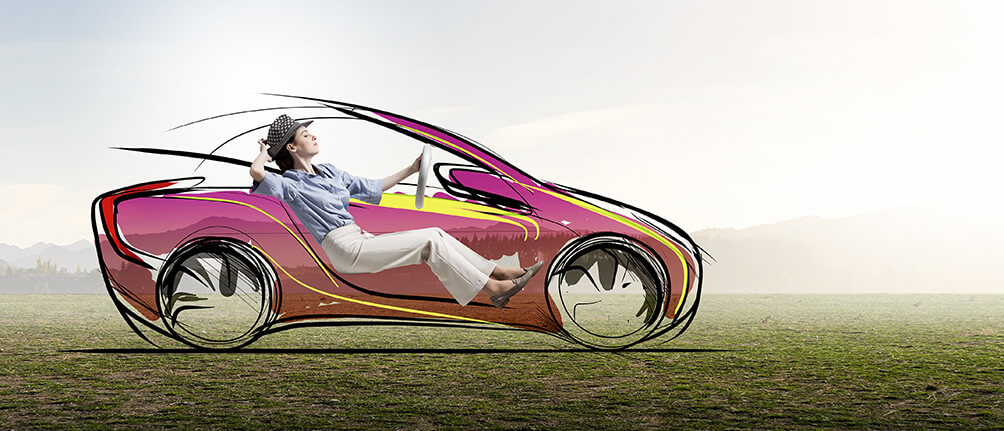 Share:
The car-buying process can be intimidating. Whether it's your first car or your fifth, it can be easy to get overwhelmed and make mistakes that can cost you big bucks when making such an important purchase. Don't worry, we're here to help! Follow our five easy steps to get into the driver's seat of your new dream car.
Step 1. Check your credit report
What's your credit score? This number has a huge effect on what you'll be able to afford. Don't apply for an auto loan without checking your credit report first. Errors or incorrect information on your report, such as fraudulent activity, could potentially change what interest rate you're offered or even prevent you from being able to finance a car altogether. If you find errors or fraudulent activity on your credit report, you'll need to get it fixed before you continue with the application process.
Check your credit report online for FREE! Visit kfcu.org/resources/free-financial-counseling/.
Knowing your credit score is also important if your credit is subprime or poor — typically a score of 600 or lower. In that case, it's in your best interest to hold off on buying a car; instead, spend time rebuilding your credit so you can qualify for a lower interest rate. Making on-time payments and paying down credit card balances can help improve your credit so you can qualify for a better loan in the coming months. If this seems daunting, consider a debt consolidation loan to make payments easier at a lower interest rate than credit cards. You can also meet with a financial counselor for advice tailored to your situation. If you're in need of financial counseling, this service is offered at no cost to Keesler Federal members. Learn more about Keesler Federal's free financial counseling.
Step 2. Get preapproved for an auto loan
Once you've taken a look at your credit score and determined it's the right time to buy, the real fun begins – loan preapproval. Here are some financial terms to help you navigate the paperwork:
Loan term: The length of time you have to pay off the loan.
Down payment: The amount you can pay now toward the car's price, lowering the amount of your loan.
Taxes and fees: When you buy a car, additional costs will be rolled into the total price such as state sales tax, a documentation fee and possibly other dealer charges.
Annual percentage rate (APR): Interest and lender fees you pay to borrow money.
What does getting preapproved actually mean? Preapproval means your lender has reviewed your credit report in-depth to determine a loan amount and interest rate that fits your situation. Keep in mind that processing a preapproval application requires a hard credit pull, so it could affect your score by a point or two.
Did you know that there are two types of credit inquiries - hard and soft inquiries? Soft inquiries don't affect your credit score, but hard inquiries, like those that occur when applying for a loan, do affect your score.
To get preapproval for a loan, you'll need to provide personal information, including: Social Security number, yearly salary and a list of other debts currently owed (e.g. personal loans, student loan, credit cards, etc.). Having this information ready to go will make the application process smoother.
Getting preapproved for an auto loan also gives you some extra negotiating power at the dealership. You only need to haggle about the price of the car, not the monthly payment.
Step 3. Use your preapproval to set your budget and find your car
While your preapproval offer will tell you the maximum amount you can borrow, that is not the price of the car you can buy. You'll need to allot at least 10% of the value of the car to cover taxes and fees. Don't worry if you're not good at math, we've got an auto loan calculator to help you solve the equation. Just enter your down payment, possible trade-in value of your current car and preapproved lending terms to find the right monthly payment.
If the payment you come up with exceeds your comfort level, don't forget the preapproval offer is simply the maximum amount that you can borrow — you can borrow less if you'd prefer. It's important to be able to make your loan payments comfortably, even if you're preapproved for more.
Now that you've figured how much you can spend, it's finally time to pick out your new ride! Don't just pay sticker price on the first car you test drive. Save yourself time and money by comparison shopping multiple dealerships in your geographic area. Also take the time to compare similar makes and models to make sure you're getting the features that matter most to you. All of this knowledge can be used as bargaining tools to get you the best price possible. Shopping for a new car can be simplified with Keesler Federal's TRUECar buying service, which compares cars and finds the best price all in one place.
Do due diligence on your trade-in! The trade-in value of your car can make a huge difference on what your monthly payments would be. Websites like NADA Guides and Kelley Blue Book will estimate the value of your car so you can be prepared to ask for a fair amount.
Step 4. Finalize your loan
You've gotten preapproved, you've found the perfect car, now it's time to sign on the dotted line. Before you finish your paperwork, here are a few things to consider:
Additional products to supplement your loan –
GAP insurance that covers the difference of your car's value and insurance payout if your car gets totaled.
Loan protection options that will assist or cover payments if something happened to you, maintenance and repair coverage options that reduce the amount you pay out-of-pocket when unexpected issues arrive, and more.
The length of the loan – a shorter loan terms typically offer lower interest rates, while longer loan terms with higher interest rates come with lower monthly payment.
Once you've reviewed your options, that's it! Sign away and then go get your new car.
Step 5. Make your payments
You did it! You got your new car, but don't forget to make payments on your car loan. Although things may have been set up to auto-draft from an account, it's always a best practice to double check and make sure everything processes properly. On-time payments have a major impact on your credit report, so timely payments can help you get that score even higher! Make sure you receive a login for an online payment portal where you can manage and make payments or sign up for automatic payments.
We are here to help if you have any questions along the way, just drop into your nearest Keesler Federal branch, give us a call at 1-888-533-7537, or send us a message on social media. Ready to jump in the driver's seat?
Membership & credit eligibility required. Actual rates and terms vary based on credit history, loan amount, and collateral.
APR is annual percentage rate.