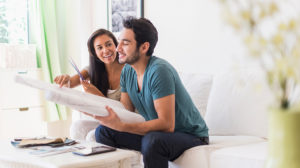 HOME EQUITY CREDIT LINES & LOANS
Open up a World of Possibilities
Tap into your home's equity
The equity in your home can be used your way and on your terms.
Apply Now
No hidden fees
No closing costs, no origination fee, no application fee.
Below market rates
Rates as low as 
Visit our mortgage center for current rates
and even lower 6-month intro rates.
Flexible terms
Enjoy open-ended credit with payment terms up to 20 years.
Compare your options
Fixed-Rate Second Mortgage
A closed-end loan taken against your existing home, borrowing against your home's equity.

Lender credit towards closing costs
Home Equity Line of Credit
A revolving credit line using the equity in your home as collateral.
Home Equity Lines & Loans Calculators
Home Equity Lines & Loans FAQs
You can borrow up to 90% of appraised value, less balance on 1st mortgage (based on credit score).
Max loan amounts up to $150,000.00
Minimum Loan amount $10,000.00
The minimum monthly payment is $100. Payments are based on the repayment period and balance owed at the time of rate change or advance.
No. All home construction must be 100% complete to qualify for a home equity loan.
See all Home Equity Loans & Lines FAQs
Apply online for a home equity loan or line
Apply now
Disclosures
Available in MS, LA, AL, FL.

Available on primary residence only.

Home Equity Loan or Line of Credit Payment Example: Assumes credit score for borrower is 740 or higher. A typical Home Equity Line of Credit as of October 31, 2019 with a 4.75% APR, and $30,000 financed for 20 years, is approximately $193.87 per month.