Meet Your New Favorite Credit Card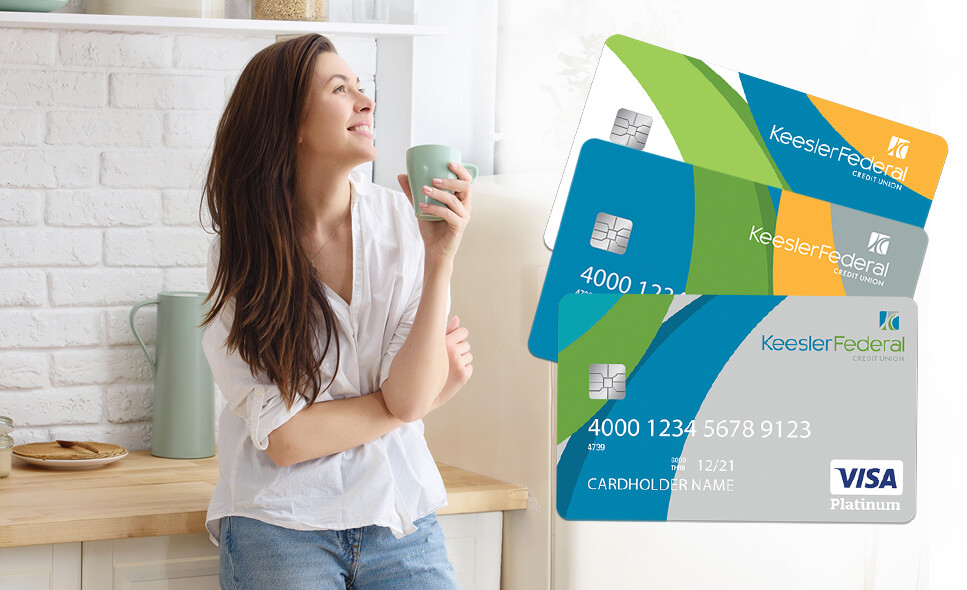 Share:
Best. Card. Ever.
At Keesler Federal Credit Union, we're on a mission to empower our members to feel confident about their finances. That's why we've added three exceptional credit card options. With extremely low interest rates, fantastic rewards, and no annual fee, Keesler Federal's Visa credit cards are the best on the market.
Whatever your goals or current financial situation, we've got the right card for you. Establish or rebuild your credit; enjoy prime rates, cash back, or points and transfer your balance from another credit card without having to pay a transfer fee.
Three Credit Cards with Features You'll Love
Keesler Federal's credit card options were created with the credit union's diverse membership in mind. Anyone from a first-time credit builder to an established credit pro will find something to like about our Visa card offerings. Learn more about our Visa Signature, Visa Platinum, and Visa Classic credit cards to find the one that complements your unique financial profile.
Visa Signature
The Keesler Federal Visa Signature card is perfect for members who keep little-to-no balance from month to month but still want rewards. Members will benefit from interest rates as low as prime, 8.50% (depending on your credit history). With 2% cash back or three points for every dollar spent and a $100 balance credit for $1,500 spent in the first 90 days, members are rewarded for their spending without paying an annual fee.
Visa Platinum
For members who carry a balance and want to enjoy low rates and spending rewards, we recommend the Keesler Federal Visa Platinum card. With rates as low as prime, 8.50% (depending on your credit history), the Visa Platinum card is a great option for paying down another credit balance or bolstering credit health. Members will earn one point for every dollar spent and 10,000 bonus points for $1,000 spent within the first 90 days. Not to mention zero annual fees.
Visa Classic
The Keesler Federal Visa Classic card is ideal for members who are establishing credit for the first time or rebuilding their credit for whatever reason. No annual fee rates as low as prime, 8.50% (depending on your credit history) can help members establish and improve their credit health.
The Fine Print
Keesler Federal's Visa card options are subject to credit approval and membership eligibility requirements, with a max credit limit of $25,000. Rates may vary on a quarterly basis. To learn more about bonus rewards, visit CURewards online.
Our team is ready to help you meet your financial goals. Apply for your Keesler Federal Visa credit card today by filling out the application form online or calling 1-888-533-7537 and prepare to meet your new favorite credit card.