Overview

Keesler Federal is committed to helping you to better manage your finances and improve your financial well-being. The Transaction Enrichment and Financial Wellness features make it easier than ever for you to monitor transactions and analyze spending patterns for your account.
We encourage you to watch this informative video to learn more about how to use these exciting financial tools.
Understanding Transaction Enrichment

With Transaction Enrichment, every transaction that posts to your accounts will feature clear and concise descriptions and automatically be assigned an appropriate spending category. For example, a transaction with the description of "#865402 WAL Wal-Mart GULFPORT" will be simplified to "WALMART" and will automatically be assigned the category "Shopping".
The way to view and edit your transaction descriptions and categories will depend on whether you are using our mobile or desktop platforms. Below is an example of the desktop view.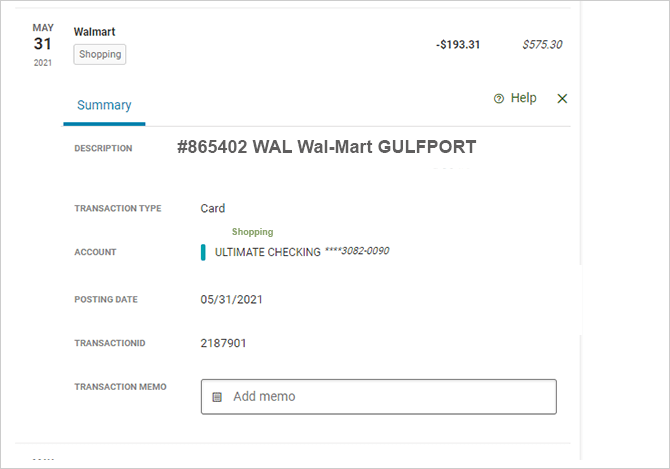 Desktop Users
Log in and select the Accounts widget from the Dashboard. Click the account (savings, checking, Smart Change, etc.) you wish to view to display your transactions.
If you want to see more detail about any transaction listed, simply click on it to view the original long description. Should you determine that the shortened description is incorrect, you may revert to the original one. Doing so will "teach" the machine-learning algorithms that power Transaction Enrichment to provide more consistently accurate descriptions for future transactions.
You will also notice each transaction has automatically been assigned a spending category such as "shopping" or "utilities". You have the option to change a transaction's category and may also set up categorization rules for future transactions.
Mobile App Users
Log in and, from the main Accounts page, click the More hamburger icon (Android on top, IOS on bottom). From there, select the Financial Wellness widget to view transactions on your account.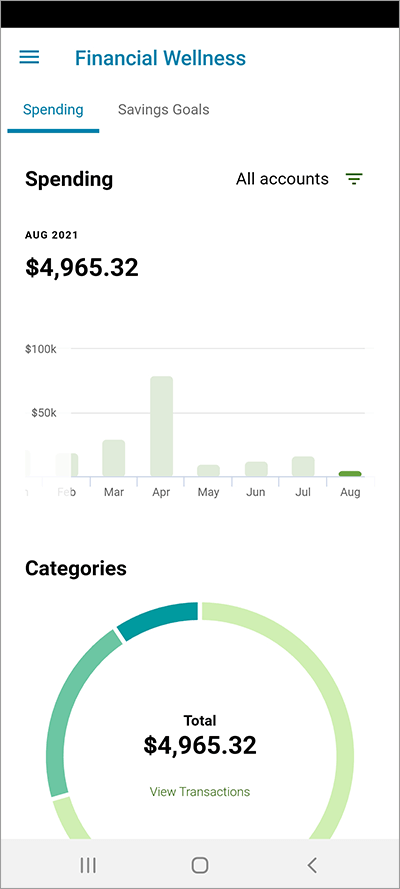 Managing Transaction Names

If the transaction name looks strange or you think it's incorrect, you can revert it back to its original name. Simply select "View Transactions" and then select the transaction you want to revert by clicking on the question mark. Select the original description and update. This feature is available in both desktop and mobile versions.
Managing Categories

You can reassign category names by simply selecting the category name in the transaction description. Select the new category you prefer. If you want to apply this change to all future transactions containing that name, select the check box.  For convenience, edits can also be made in bulk.
NOTE: you cannot shorten the transaction name.
The edit tool shown below allows you to assign rules to similar transactions. For example, you can assign all Walmart transactions to one category regardless the store number.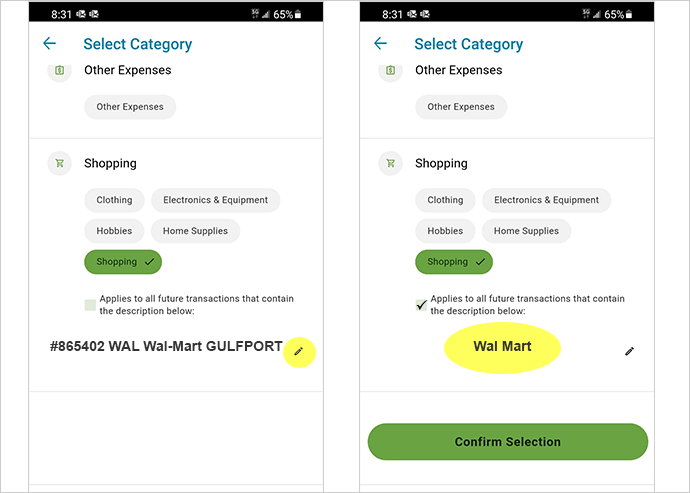 Financial Wellness Widget

Our Financial Wellness widget is the first step in providing you enhanced tools to simplify the budgeting process and help you manage your spending. The initial release of the widget will provide a visual summary of categorized transactions from across all your accounts for a selected timeframe. More features will be added in the future and the summary will slowly become more populated with your own financial information.
Spending
Under the Spending tab, you will see a Spending by Category chart that provides a breakdown of categorized expenses, a list of transactions for the selected accounts and time period (and their associated categories), and a list of your top spending categories. This convenient visual tool makes it easy to monitor your spending patterns with a quick glance.
Savings Goals
Financial Wellness also allows you to set multiple saving goals for any of your savings accounts. From the Savings Goals tab, select the account you wish to use and choose an applicable goal category. Once you enter the total amount you wish to save and goal date, this feature will project how much you will need to save per week until that goal amount is achieved and track your progress. NOTE: you can only choose Savings from the Primary account that you are logged into.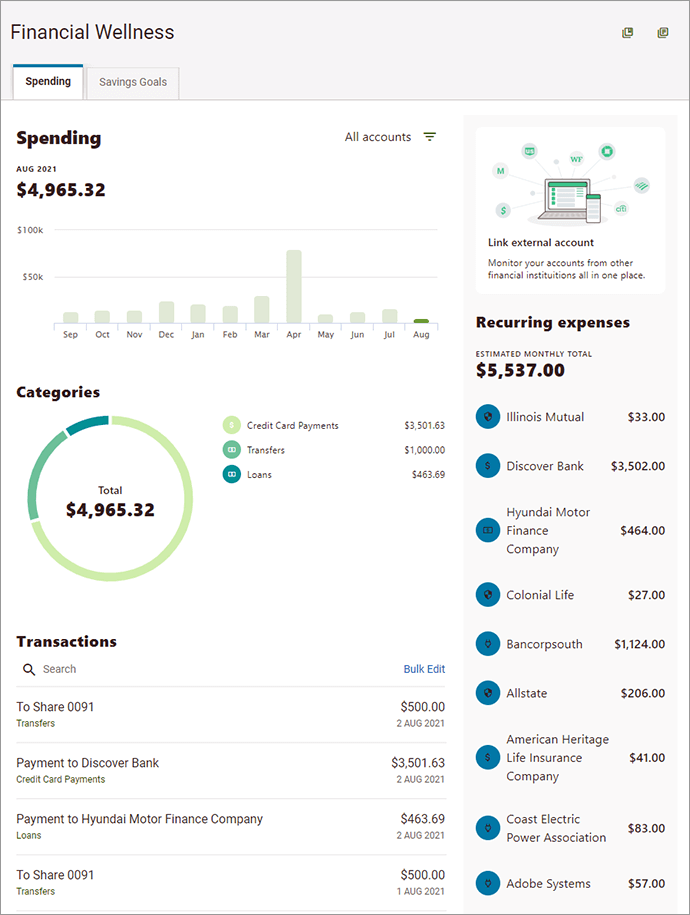 Frequently Asked Questions
All of your Keesler Federal deposit and loan accounts as well as linked external accounts are impacted by these features.
This feature cannot be turned off. It is intended to benefit all members by offering an enhanced way to manage transactions.
From the widget, click on the word "Accounts" in the top right of the screen, and a menu will appear that allows you
to select which accounts to include in the spending analysis.
The Transaction Enrichment process uses machine learning to identify and apply the most appropriate description and
category to each transaction. While we completed extensive testing and training on the system prior to rolling it out, there
will still be cases where missing or conflicting information or merchant names could result in having an incorrect
description applied to a transaction.
The machine learning algorithms will continue to learn and consistently apply more accurate descriptions over time as
more data is gathered and processed. In the meantime, we're here to help.
If you notice that one of your transactions was given an incorrect description, you can revert it back to its original name. Simply select "View Transactions" and then select the transaction you want to revert by clicking on the question mark. Select the original description and update. This feature is available in both desktop and mobile versions.
Note that this only applies to transaction descriptions—categories and categorization rules can be managed directly
by you.
If you suspect that a transaction may be fraudulent, contact us at 1-888-533-7537 or log in and send us a secure message through the online message center.
When we release these features, we will scan and process transactions back two years for each member.
Depending on your level of account activity and the number of accounts you have, it may take some time for this initial
scan to complete. If you log in and notice transactions from within the last year that don't appear to have been scanned,
please wait a few days before contacting us to research.
From either the Accounts Widget or the Financial Wellness Widget:
Select the assigned category under the transaction description

In the list of categories, find and select your preferred category for the selected transaction

Click or tap Save
In order to support these new features, we had to deploy a new list of categories for you to use. The new list of categories is below, and through user experience research they have been identified as the most common and applicable to most scenarios: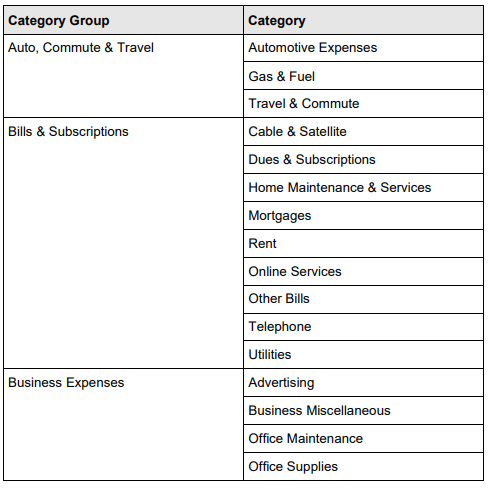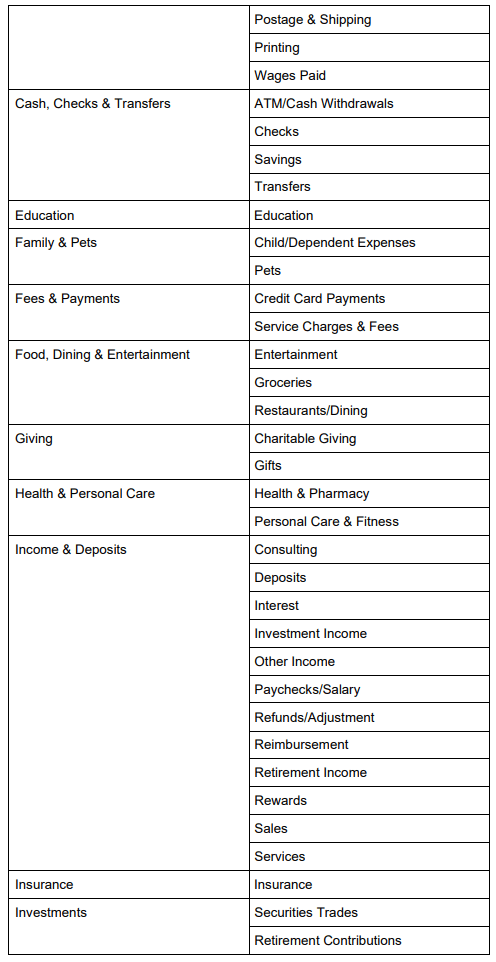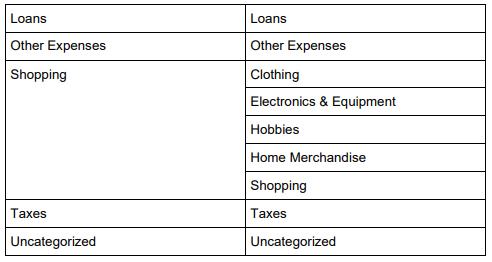 In order to support the automatic categorization process, you will not be able to create any custom categories at this time.
Whenever you assign a category to a transaction in either the Accounts widget or the Financial Wellness widget, you will
have the option to select a checkbox in the categorization drawer to apply that selected category to all future transactions
containing the listed description. If the checkbox is selected and the category is saved, any future matching descriptions
will be automatically assigned the selected category.
Note that the entered rule description must be a substring of the original description. In other words, you can remove
characters or words from the front or back of the original description text, but you cannot remove sections from the
middle of the original description or add any characters.
For example, if a transaction's original description was WALMART SUPERCENTER GULFPORT, MS, you could enter
a substring of "WALMART SUPERCENTER", but not "WALMART GULFPORT".
Note: newly established rules are not retroactive and will only apply to future transactions.
Transaction Enrichment's description rules are based on the original transaction descriptions. In some cases, the
transaction description may contain transaction specific data like dates, locations, or numbers. To edit rules with these
descriptions, remove the transaction information that may change in the future. Removing variability in the description will
result in consistent future categorization. For example, "STARBUCKS 4182020" should be edited to "STARBUCKS".
When you are editing your transaction description, you must keep at least four characters of the original description. We recommend you keep a word from the transaction description that will help you recognize it for future reference.
If you need to edit the description you used as an input for a rule, you can click the edit (pencil) icon to edit
the description. Changes to the description will only impact future transactions.
To remove a categorization rule, you can simply uncheck the checkbox next to the rule and click the Save button in the
categorization drawer to save the change. Changes will only affect future transactions.
Currently, you can view your top 8 spending categories for the selected account(s) and timeframe. In the future, we'll add
the ability to select a category for more specific comparisons.
Yes! The Financial Wellness widget is available in both the iOS and Android mobile apps.
Yes! The appearance and functionality of the Analytics tab will remain the same, but it will be updated to use the new set
of categories.