Keesler Federal Features Mississippi Aquarium On Newly Unveiled Debit Card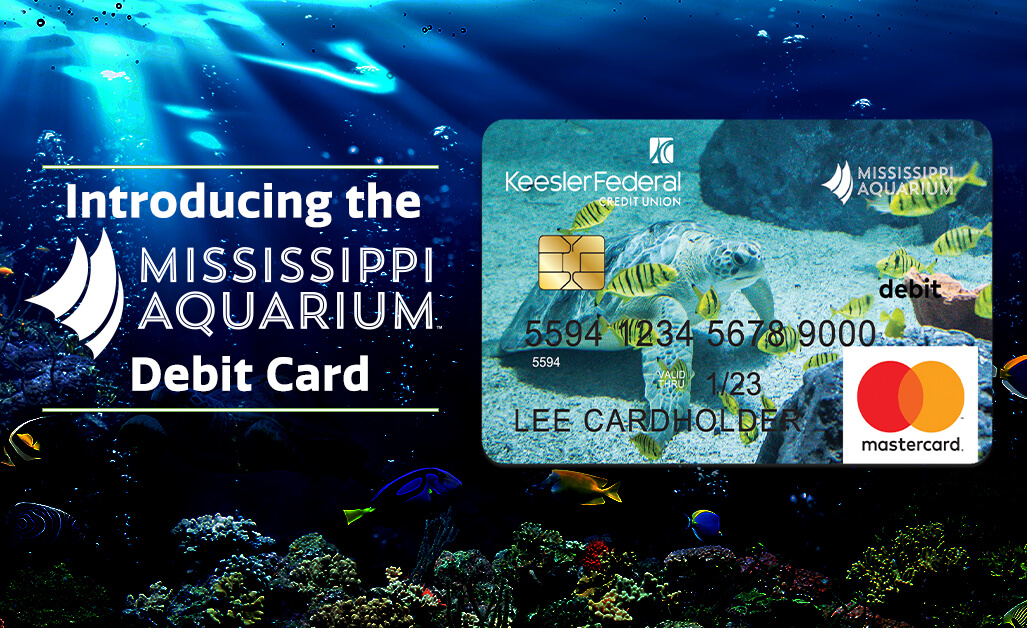 Share:
Partnership Strengthens Commitment to Support New Attraction
Keesler Federal Credit Union is now offering members a branded debit card featuring the recently opened and highly acclaimed Mississippi Aquarium.
The Mississippi Aquarium debit card continues Keesler Federal's desire to highlight Mississippi Gulf Coast attractions and initiatives, including the Biloxi Shuckers professional baseball team and the One Coast development efforts.
The design of the Mississippi Aquarium card features a variety of colorful fish and Banner the bright green sea turtle, named for the character Bruce Banner, aka The Incredible Hulk.  Acclaimed Gulf Coast photographer Shannon Lutkins captured the image selected for use on the card.
The facility, which opened in late August 2020, was ranked by USA Today as the fourth best new attraction nationally in 2020 and named one of the Mississippi Gulf Coast's top stories of the year by the Sun-Herald.
"Keesler Federal wanted to provide members an opportunity to show their support of this great attraction which elevates the Mississippi Gulf Coast as a tourism destination," said Andy Swoger, Keesler Federal CEO and President. "Personally, I was just so impressed by the exhibits and marine life, and this is a venue that appeals to families and schools groups. As a supporter of the community, Keesler Federal wanted to be associated with the Mississippi Aquarium."
The debit card strengthens the partnership between Keesler Federal and Mississippi Aquarium. The credit union previously announced its long-term financial commitment to the aquarium, which included the Changing Tides Gallery presented by Keesler Federal, and support of the facility's youth summer and education programs.
Additionally, Keesler Federal's members receive a discount on aquarium ticket and annual membership prices.
"We are delighted to partner again with Keesler Federal Credit Union to launch the debit card featuring our green sea turtle, Banner," said Kendra Simpson, Mississippi Aquarium Vice President of Sales and Marketing. "Featuring our endangered sea turtle helps to share our mission of education, conservation and community. Banner came to us after being rehabilitated from a boat strike injury, so we are especially proud to showcase him on the new cards. Keesler Federal's many strengths, including digital innovation, customer service excellence and exceptional branding make them the ideal partner for our organization."
Any Keesler Federal member with a checking account is eligible for a debit card and may choose from several card design options.
About Keesler Federal
Keesler Federal is a $3.7 billion not-for-profit, member-owned cooperative, the largest Mississippi-based credit union. Founded in 1947 to provide financial services to Keesler Air Force Base employees, it now has 40 locations, including branches in the Jackson, Hattiesburg, Mobile and New Orleans markets as well as the Mississippi Coast. Membership exceeds 270,000 members.
About Mississippi Aquarium
Mississippi Aquarium, a nonprofit 501(c)(3) organization, is a premier institution delivering an awe-inspiring experience that supports animal research and conservation. Mississippi Aquarium is committed to animal welfare and the majesty of the gulf and beyond. The Aquarium sits on 5.8-acres and contains over 80,000 square feet of indoor and outdoor exhibits connected by landscaped walkways with plants that represent all the physiographic regions of Mississippi. For more information visit www.msaquarium.org