Keesler Federal Announces Partnership with Mississippi Aquarium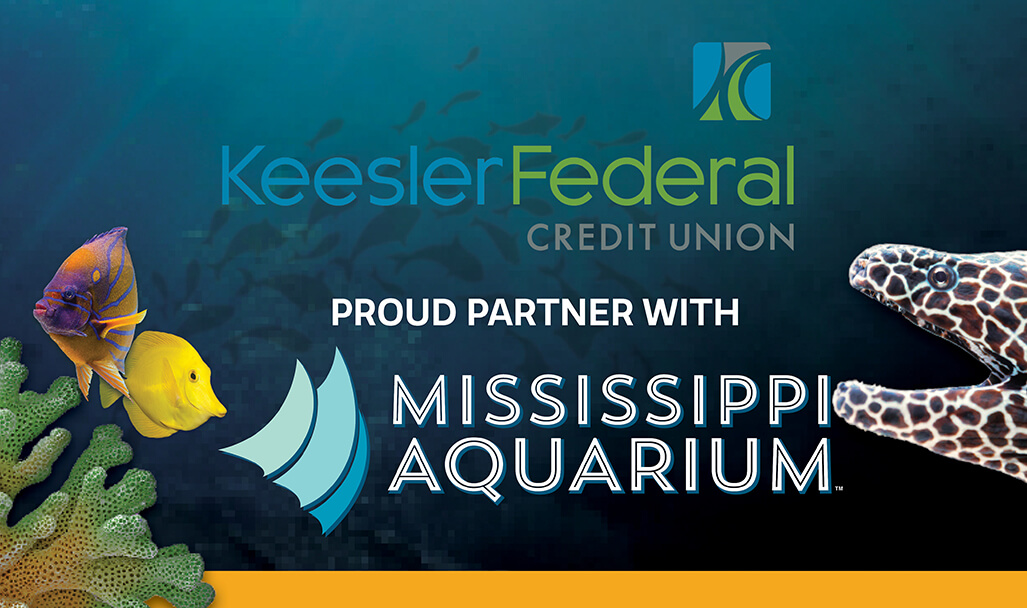 Share:
Gulfport, MS –  Keesler Federal Credit Union today announced a partnership with Mississippi Aquarium, the soon-to-open family and educational venue that will serve as a top attraction on the Mississippi Gulf Coast. The $90 million Mississippi Aquarium is set to open its doors on August 29, 2020.
The multi-faceted partnership will include Keesler Federal name recognition for the Changing Tides Gallery at the Aquarium scheduled to open in late August. Additionally, Keesler Federal's contribution will support the facility's youth summer camps and educational programs and will allow the credit union to award behind-the-scenes tours to select science teachers in local schools.
Included with the naming recognition agreement, Keesler Federal members get a discount on Aquarium ticket and annual membership prices.  The special discount link can be found after logging in to Keesler Online or Keesler Mobile or by providing proof of Keesler Federal membership in person at the Aquarium's ticket counter.
"Keesler Federal felt strongly that Mississippi Aquarium is going to be a premier attraction and educational facility and we wanted to be part of this historic step forward for both our area and our state," said Andy Swoger, Keesler Federal President and CEO. "Keesler Federal is committed to the communities we serve, and this partnership with Mississippi Aquarium allows us to support this tremendous asset for our citizens. Our mission statement is "Be Extraordinary" and we certainly believe this great facility will accomplish that."
The Changing Tides Gallery, presented by Keesler Federal, will be the center of various exhibits and will serve as the venue to host education seminars, receptions and other groups.
Kurt Allen, President and Chief Executive Officer of Mississippi Aquarium, said: "We are very excited and proud to partner with Kessler Federal. It is clear that our mission to support education, community and conservation are aligned with Keesler Federal, so we display them proudly on our Changing Tides Gallery building."
Keesler Federal – the state's largest credit union – has been an ardent supporter in the community, with a primary focus on education, first responders, and military. The credit union sponsors the annual First Responders Recognition program each fall, is a primary supporter of the Gold Star Family Memorial in Biloxi as well as the Eagles under the Oaks Golf Tournament that raises money for Combat Wounded Veterans  of South Mississippi. Through its Backpacks for Bright Futures program, the credit union provides backpacks and school supplies for more than 6,000 students entering kindergarten in 16 school districts across the Coast.
About Mississippi Aquarium
The Aquarium will be a premier institution delivering awe-inspiring experiences that support education, conservation and community, and is committed to animal welfare and the majesty of the Gulf and beyond. The facility sits on 5.8 acres of land at the corner of U.S. 49 and U.S. 90, across the street from the white sand beaches of the Gulf of Mexico.
About Keesler Federal
With assets of $3.4 billion, Keesler Federal is a not-for-profit, member-owned cooperative, the largest credit union in the state. Founded in 1947 to provide banking service to Keesler Air Force Base employees, it now has 40 locations, including branches in the Jackson, Hattiesburg, Mobile and New Orleans markets as well as the Mississippi Coast. Membership exceeds 250,000.