Keesler Federal Awards KEEP Scholarships to Help Employees Earn Degrees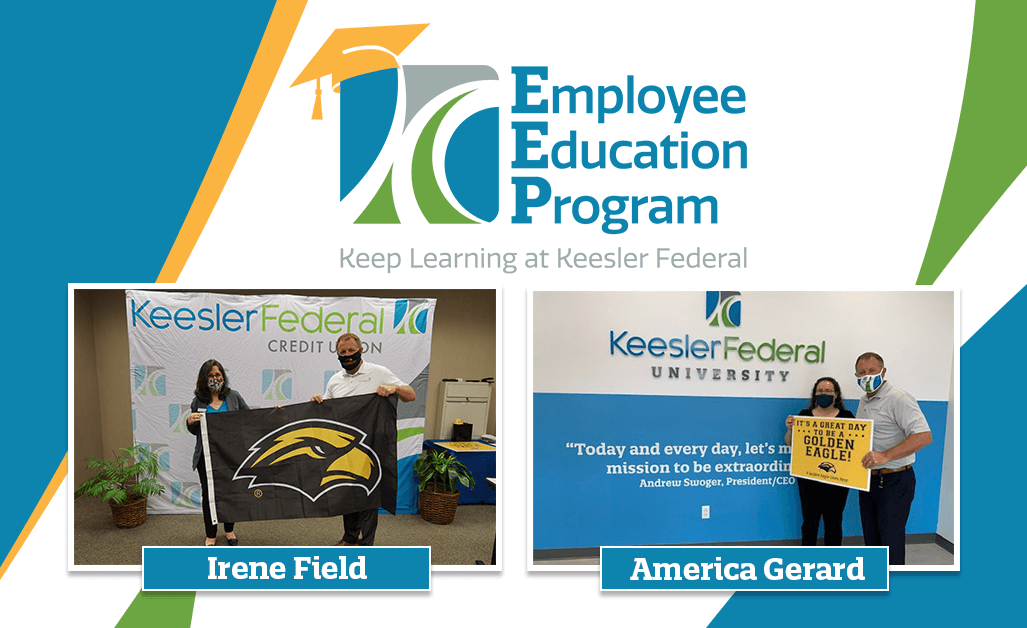 Share:
Keesler Federal Credit Union KEEPs helping employees earn college degrees through its scholarship program that pays 100 percent of the costs associated to complete a business degree at the University of Southern Mississippi.
The Keesler Employee Education Program (KEEP) was started in 2018, and two scholarships were awarded this fall semester as a pathway for employees to achieve their academic and professional goals. KEEP allows the employees to earn degrees online at USM through the College of Business and Economic Development, while being employed full time.
The scholarships pay for registration, tuition, books, lab, fees, proctor fees, and all expenses upfront, and allows the employees to walk away debt free.
The two USM scholarship winners for 2020 fall semester are:
Irene Field, a Financial Service Rep II at the Keesler AFB Larcher branch. Employed at Keesler Federal for 6 years, 4 months.
America Gerard, a Financial Service Rep 1 at the Mobile Westwood Plaza branch. Employed at Keesler Federal for 2 years, 6 months
Biloxi-based Keesler Federal is the largest credit union in Mississippi, and its branch network stretches across three states. The cooperative is a not-for-profit financial institution owned by more than 250,000 members.
"The KEEP program is true to one of our strategic objectives, which is to create a culture of trust, teamwork, accountability and service to our members," said Ruth Montana, Keesler Federal's Director of Human Resources.
"These two outstanding employees own strong work ethics and always seek the best results for our members. The KEEP program will help them continue their educational journey and learn ways to improve their skills that will serve them well as part of our Keesler Federal team."